The IKF is an Israeli-based global provider of training and protection services to the military, security, civilian, police and corporate VIP sectors.
The brief was to improve their website and create a global campaign to increase general awareness to promote an upcoming close protection course in Poland - delivering maximum results whilst adhering to a strict budget.
What was delivered:
New & improved website – launched within 3 weeks

Compiling scope for new website in-line with client's brief & budget

Managing web design project from start to completion

Sourcing website builder

Creation of animated GIF & video to promote upcoming Close Protection Course

Manage Google Adwords campaign – 2 month campaign

Social media management – Facebook, post sharing across Twitter & Linked-in profiles

Blogs – Importance of skills updates and Top Tips for Hiring a Bodyguard

Launch of Israeli Protection Services – blog on "Essential Guide when hiring a Close Protection Officer / Bodyguard" and social media campaign.
Website scope:
Improved navigation / design / fonts / appearance

Desktop, tablet & mobile responsive

Multiple language translation

Interactive homepage with promotional area and prominent call to actions for Close Protection course and Israeli Protection Services

Dedicated landing pages for Close Protection course and Israeli Protection Services

Creation of Wordpress templates to enable easy updating and new page creation

Clear corporate messages, organisation's purpose and USP

New copy for main pages, including company mission statement

Course calendar / course information / online booking

Multi-currency payment facility

Tactical clothing store

Social media news feed

Chat box

SEO

Instructors' experience gallery

Google analytics & Facebook pixel tracking

Registration area / sign-up for newsletters / integration with mailchimp
The Campaign
A series of videos and animated gifs were developed as part of the campaign, as well as a "why choose IKF" short animation: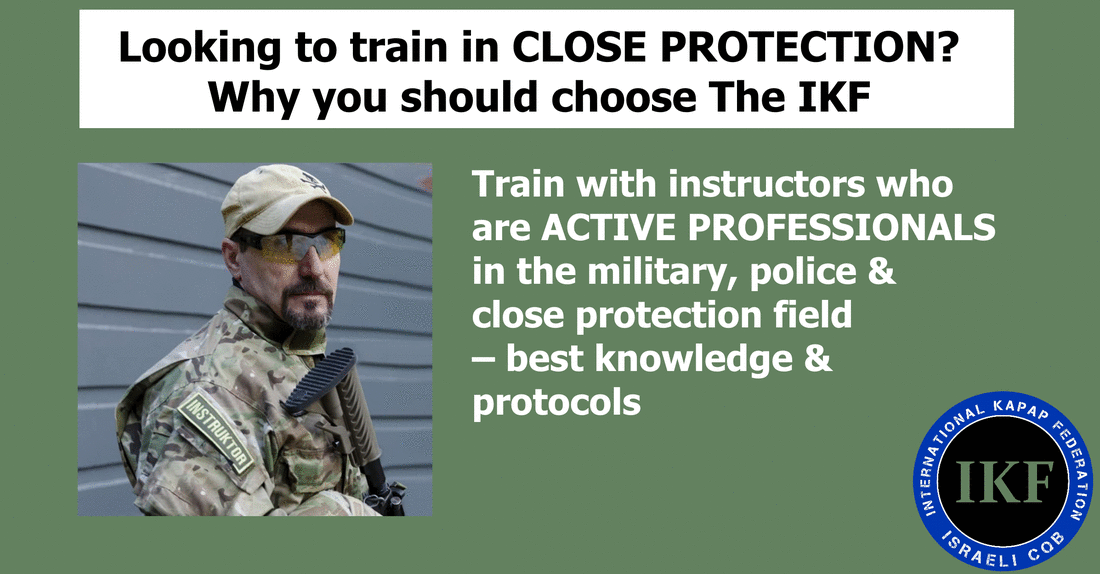 Essential Guide on Hiring a Close Protection Officer or Bodyguard - Blog Article & Social Media Campaign
A 2500-word evergreen article was written covering 12 points around the subject of hiring bodyguards or close protection officers. The target audiences of the article are those with security concerns; those considering employing personal protection – such as government officials, celebrities and the VIP community.
The purpose of the article from a marketing perspective was to increase awareness of IKF's Israeli Protection Services and attract attention of those in the industry who may have security training requirements. Also, from a search engine perspective to increase visibility, rank and organic reach of the IKFCQB website.
The Results
Website statistics – month 1
Users – 1.6K (up 908) 127%
Sessions – 2.3K up 112%
New users 1.5K (up 794) 111% up
Social users up 47%
Direct users up 52%
Organic search up 176%
Referral up 130%
Goal conversions 155 (9.6% of traffic)
CPC average £0.52 / 705 clicks
Website statistics – month 2
Users – 1.7K (up 120) 7%
Sessions – 2.4K up 9%
New users 1.6K (up 62) 4%
Social users down 3%
Direct users up 15%
Organic search up 14%
Referral down 38%
Goal conversions 294 (17.3% of traffic) up 89%
CPC average £0.30 / 825 clicks
Facebook – January Vs December
Post reach – 10335 impressions 1365% up
Video views 740% up
Post engagements 3153 - 809% up
Page likes 178% up
Page views 161% up